WELCOME!  BIENVENUE!  ¡BIENVENIDOS! WILLKOMMEN!

I specialize in languages, cultures, cross-cultural communication and the arts. All services are provided both in English and Spanish and include: copy writing, several levels of editing, translating, teaching and consulting.
I take pride in offering:
excellent quality services
personalized attention
flexibility
high analytical capability
attention to detail
fast and reliable service – I've never missed a deadline!
Contact me with your questions or comments by email or filling out this form.
A BIT ABOUT ME
I am a multilingual communication specialist passionate about everything that has to do with cultures, words, and languages. For the past 15 years, I've been offering independent English and Spanish language services. When the project requires it, I work with a pool of professionals to provide you with the best possible services.
Curious about my background?
I attended an international language immersion school (German-English-Spanish) in Uruguay and participated  in competitive exchange programs to live and study in Italy (with AFS and Intercultura) and in Germany (as winner of the Humboldt Contest to best written research work).
I obtained a B.A. in Anthropological Studies at the Universidad de la República, majoring in symbolic systems, linguistics and visual/fine arts. Later, I pursued a M.A. degree in Communication at Michigan State University (through a Fulbright Scholarship) and specialized in media, gender and cross-cultural communication.
At the University of British Columbia I earned a Ph.D. in Language and Literacy Education and collaborated to bring Open Journal Systems to Latin America. As part of my contribution to this effort, my dissertation focused on open source programs for academic publishing and higher education at an international level.
In addition to living in Europe, North and South America, my experiences living and working in Asia (Malaysia) and Africa (Mozambique) helped me hone my other languages and cross-cultural communication skills.
To better help my clients, I strive to constantly upgrade my skills by getting certified (Society of Translators and Interpreters of BC), joining professional associations (Editors Canada, Spanish Editors Association) and continuing to study, including a one-year writing and publishing program at Simon Fraser University.
For more details on my background, please visit my LinkedIn profile.
A BIT ABOUT MY WORK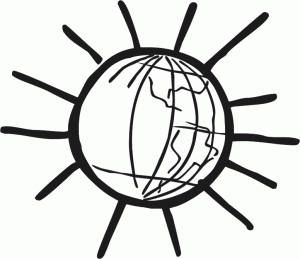 The Story Behind the Logo. The initial logo showed the earth superimposed over a sun—a play on the my name, which is derived from the Latin words for light and earth. The logo has evolved to include people around the world to reflect an increased involvement in community development projects and a global focus on sustainability.
Best Business Practices. I care about the world we live in and make every effort to make it a better place for everyone. I do so by limiting our use of paper products and energy, choosing non-contaminating means of transport whenever possible and reducing commuting time by favouring home-based businesses.
Confidentiality. Any information you submit will remain strictly confidential. I will not distribute, disseminate, sell, or disclose any information communicated in the documents you submit to us.
CONTACT

Email with your questions or requests.
Save
Save
Save
Save
Save
Save
Save
Save
Save
Save
Save
Save